30+ Years of AVC History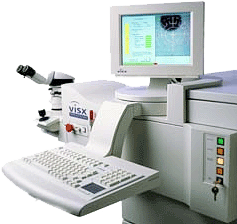 Dr. Brian Oswald met Dr. Rick Peterson while performing mission work in the Dominican Republic in 1981. They worked together to offer glasses to needy Dominicans who did not have the means to obtain vision care. In November of 1984, Dr. Oswald joined Dr. Max Fox prior to his retirement. Dr. Oswald moved the practice to Crestwood in 1984 and opened Absolute Vision Care. Dr. Peterson joined Dr. Oswald upon completion of his schooling. His specialty in ocular disease treatment, medical eyecare, and academic/athletic disorders helped Absolute Vision Care meet the needs of the growing practice. Due to the growth of the Crestwood office, many patients asked about multiple locations to better service their needs. In August of 1995, our second Absolute Vision Care location was established in Mokena.
A major addition to our level of patient education and service was established in 1996, when Absolute Vision Care created our website. This website www.absolutevisioncare.com enables our patients to learn more about eyecare as well as the convenience of ordering contact lenses online. This has been a huge convenience for many people, especially our patients who are away from the area while in college or other academic endeavors.
In 2000, Dr. Peterson joined the faculty of the Illinois College of Optometry and established the first private practice externship program for pediatrics and vision therapy. Later that year, the doctors of AVC accomplished a huge feat, as Absolute Vision Care, in conjunction with United EyeCare Providers, Inc, was able to join medical PPOs as participating providers for the medical eye care of our patients. This was the first time a network of eye doctors was accepted onto panels of major medical PPOs. In the fall of 2000, Dr. Peterson, in conjunction with The Laser Network, and our LASIK surgeon, Dr. Kevin Kovach, opened our laser center in Elmhurst. This state of the art facility offers patients an outstanding LASIK experience, utilizing the VISX laser and the WavePrint system for custom laser treatments.
In 2001, AVC again demonstrated our commitment to our patients' medical eye care, as we purchased state-of-the-art retinal digital imaging systems and corneal mapping technology. The digital imaging system allows earlier diagnosis and better monitoring of conditions such as: diabetes, glaucoma, hypertension, retinal detachments, severe ocular trauma, and optic nerve disorders. The corneal mapping technology creates a color topographical map of the front of the eye similar to maps used by meteorologists for measuring rain and snowfall. This means that many corneal diseases and problems can be discovered PRIOR to the patient noticing permanent vision loss. This particular system is also useful in achieving superior results for LASIK patients and to create specialty contact lenses for "hard-to-fit" patients. Our success has been unbelievable!!
In the fall of 2002 another milestone was established, as Absolute Vision Care was asked to bring quality eyecare to the senior citizens of our surrounding communities. Through the collaboration of our doctors and our equipment specialists, AVC introduced our mobile eyecare unit. This service offers comprehensive eyecare as well as enabling the residents to have glasses ordered and dispensed at their retirement center.
Advances in diagnostic testing and treatment continue at Absolute Vision Care. The addition of the new computerized HRT II Optic Nerve Analyzer (pictured below) allows the highest degree of detection of optic nerve abnormalities and glaucoma. Now we can detect changes to your vision before you may even notice! Dr.Eli Lelis and Dr. Majid Rassouli joined the AVC team with a strong foundation in medically related eye care, Cataracts, Corneal disease, and surgical ocular treatment.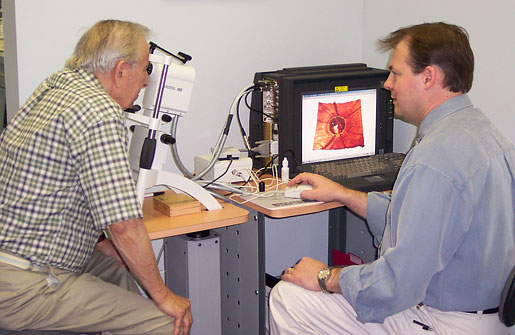 2004 brought the 20th anniversary of AVC and a huge celebration. Our four month gala offered raffles, weekend get-aways, and fun prizes for our patients. In 2005, Dr James Sowinski joined our practice, bringing significant experience with medical and surgical patient care. His background in ocular disease affords our patients complete and comprehensive eyecare. Beginning in 2005 and into 2006, we expanded and remodeled our Crestwood location to better serve the needs of our expanding patient base. This larger, state-of-the-art facility is a perfect blend of modern techology and our comfortable/relaxing design.
2007 brought huge growth to our locations. Our relationships with local schools and businesses have helped us to reach many patients with unique ocular needs. We are also one of the first practices to bring a new technology to the optometric and ophthalmologic field. We are utilizing a new method to monitor intraocular pressure to prevent Glaucoma and vision loss. This will allow better monitoring of eye pressures for patients who have had LASIK, corneal transplants, certain Glaucoma surgeries, and dry eye symptoms.
2009 ushered in exciting changes at AVC!! Our third location in Manhattan was opened in the Berkots Market Center. This practice allows us to bring a unique mix of technology, service, and specialties. We have upgraded to a new state-of-the-art software system that allows information to be directly added to your virtual file. Our specialty care has expanded as well. Dr. Samra Hashmi has added her experience in cornea and cataracts to offer our patients the very best in cataract and LASIK surgical care.
Over the last decade, we added the new I-Wellness testing to our locations, allowing our doctors and retinal specialists to see into the 'inner layers' of your eyes and detecting early retinal problems, like macular degeneration and diabetic retinopathy before it affects your vision. We opened our expanded Vision Therapy Center to allow us to see more patients and to utilize the newest technology in Binocular Vision Rehabilitation Services and Therapy. Teachers and parents have been amazed by our success, and the huge impact it has made in the class room and on the playing field. Dr Taryn Doherty joined AVC, adding her specialties of dry eye, contact lenses, and myopia control. Dr. Doherty is certified in the fitting of specialty contact lenses and also therapeutically certified to prescribe medications in the treatment of eye diseases such as dry eyes and glaucoma. Currently, AVC has partnered with local optometry schools to allow optometry students to experience our clinical care firsthand. One of our first students, Dr Alex Lopez joined us full time after his graduation, and he and Dr Doherty are continually adding new technologies to our vision therapy and dry eye programs.
At Absolute Vision Care, comprehensive eyecare for you and your family is the driving force that keeps us growing. In the future, look for more new technology to be added to our offices and the addition of other locations to offer our patients more convenient access to our services and expertise.